22nd AGM - Manohari elected University of Colombo MBA Alumni Association President

MBA Alumni Association University of Colombo President with committee members

From left: MBA Alumni Association University of Colombo, Assistant Treasurer Lasintha Ferdinando, Treasurer Eshani Thenuwara, Vice President Boshan Dayarathne, President Manohari Abeysekera, Immediate Past President Thusitha de Silva, Deputy President Ranga Rathnayake, Secretary Vidushan Premathiratne and Assistant Secretary Chandima Samarasinghe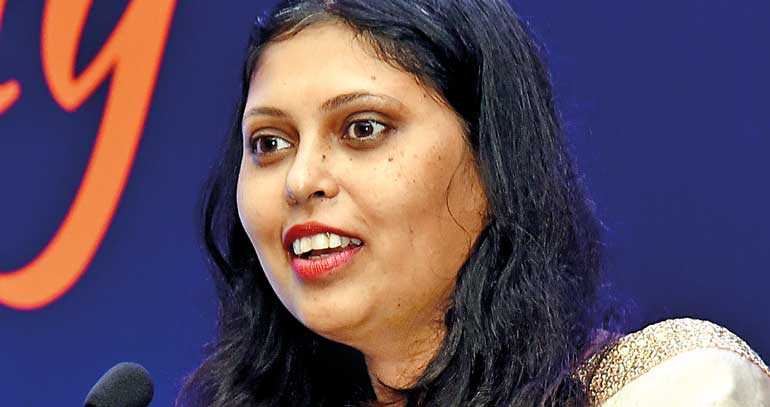 MBA Alumni Association University of Colombo new President Manohari Abeysekera
The MBA Alumni Association of the University of Colombo held their 22nd AGM on 27 June at the Orchid Room BMICH, with a large gathering of members and other stakeholders.
The occasion was graced by the Chief Guest SriLankan Airlines CEO Vipula Gunatilleka, who is an Alumnus of the MBA Program of the University of Colombo.

The Guest of Honour and Patron of the MBA Alumni Association University of Colombo Vice Chancellor Senior Professor Chandrika Wijeratne and University of Colombo MBA Alumni Association Vice Patron and Faculty of Management and Finance Dean Dr. Pradeep Dharmadasa were also present.

MBA Alumni Association of the University of Colombo was formed in 1997 and acts as an integral part and an advocate of the MBA program of the University of Colombo, serving its members and the country at large.

Whilst the MBA experience and culture gained at the University of Colombo is invaluable in one's career, MBA Alumni provides the opportunity to further enhance that experience by joining the larger Colombo MBA community by networking for continuous education and professional development.

The MBA Alumni of University of Colombo plays a leading role in the corporate world and contributes in providing platforms for management thinking for the overall benefit of the MBA Program, the business community and its members.

Manohari was the Deputy Chairman of the Association and was unanimously elected President to lead the Association in the current year. The other senior officers are Deputy President Ranga Ratnayake, Vice President Boshan Dayaratne, Secretary Vidushan Premathiratne, Treasurer Eshani Thenuwara, Assistant Secretary Chandima Samarasinghe and Assistant Treasurer Lasintha Ferdinando.

In accepting the honour, Manohari said that her theme for the year was 'Serving the Nation with Pride'. The Association has a great talent pool and that she would collaborate with other business chambers and various professional associations to raise awareness amongst stakeholders on important issues.

She urged the members to serve the country, appealing to them to return back to Sri Lanka to share their knowledge with the young undergraduates. She suggested that a mechanism to lure these talent back to our country by way of getting them back as visiting lecturers, and also a tighter bond mechanism needs to be implemented.

Manohari said that the time has come for universities to move away from the traditional career fairs, to create entrepreneurs, rather than job seekers. In most US universities, there are empty incubation labs – to allow undergraduates to come up with their own business models.

Chief Guest Vipula Gunatilleka said that he benefitted immensely from the MBA program of University of Colombo. Some principles such as conflict resolution, accepting challenges without fear have helped in his career. Vice Chancellor Senior Professor Chandrika Wijeratne said that she was pleased that the Alumni is engaged in outreach work in the business community and that they consider the University their alma mater.

Manohari currently serves as the Director – Strategy and Business Development at Fentons Ltd. and Hayleys Group Services Director. In her 17-year stint at Hayleys Group, she was attached to the Hayleys PLC, parent company and until May, she served as the Head – Strategic Business Development of Hayleys PLC, executing Group's acquisition strategy. An Alumnus of KPMG, Manohari is a Fellow of Chartered Institute of Management Accountant (CIMA-UK) and the Institute of Chartered Accountants of Sri Lanka. She read for the MBA from University of Colombo winning three gold medals for the best overall performance. Her first degree is in Biology (First Class Honours) from University of Colombo. A Prize-winner at CIMA Finals- Strategic Financial Management, Manohari was adjudged as CIMA Young Star (Silver) in 2004.

Manohari read for the Diploma in International Relations conducted by the Bandaranaike International Diplomatic Training Institute, where she was awarded the Vernon Mendis Memorial Award for excellent results in 2018.

Manohari currently serves as the Chairperson of CIMA Sri Lanka Country Network Panel. Elected to the CIMA SL Board for two terms 2012-2014 and 2015-2017, Manohari served in the MESANA Regional Board in 2017. She also serves in the Board of International Chamber of Commerce (SL).

She had Executive Education at ISB Hyderabad, ADB Manila and BHF Bank Germany. In March, Manohari was selected to represent Sri Lanka by the US State Department in the Fortune Mentoring Program for female leaders. She received the AOTS Scholarship Japan in 2015. In 2014, Manohari was selected for the prestigious IVLP Program by the Dept. of State, USA.Manohari has received many awards for Women Leadership – Women in Management SL (2012), World Women Leadership Congress – Mumbai (2015) and South Asian Partnership Summit – Dhaka (2017).

Manohari is a Toastmaster, and has spoken at many professional events. She was featured in CIMA Insight 'Breaking the glass ceiling in Sri Lanka'.